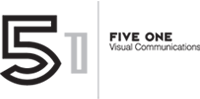 Five One Visual Communications is a design studio committed to providing the best creative support to marketing groups or any business, large or small.
We provide our clientele with all the amenities of a large advertising/design house but without the high prices. Our keen attention to detail enables us to work very closely with all of our clients, therefore providing some of the best personal attention in the industry at no extra cost.
We believe that creativity is the main tool at any successful design studio, but at Five One it is not our only asset. We ensure that your collateral is functional as well as visually appealing.
Five One understands your marketing strategy, brand positioning, budget limitation and target audience. We are committed to delivering the best possible design solution to convey your message immediately, effectively, on time and within your budget.